Fytch – Bang Bang (Mashup ft. Nancy Sinatra, Cas One, Biggie & Ella Fitzgerald) Post EP Release Free Download Hangover
Tuesday, January 31st, 2012 at 9:30 am by DuaneBrett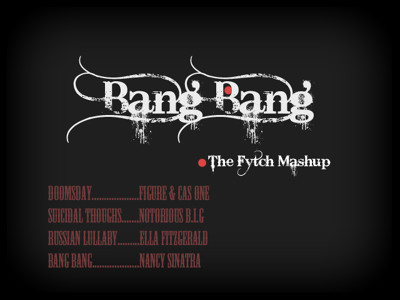 This is a track that I am somewhat torn on.  Readers may recall us sharing Fytch's Forest EP recently, and, hopefully anyone who discovered those tunes through this resource was just as impressed with them as I was myself.  Unfortunately, it seems that a good portion of Fytch's fanbase was somewhat dismayed to find that the EP in question leaned on the side of the experimental instead of the typical.
While I am currently in a love affair of sorts with Fytch's "Bang Bang" mashup, it bothers me to think that it most likely exists only to appease a listenership that doesn't want to try listening outside of the box.  Still, if that is the case, that means that the artist listens to his fans and takes their desires to heart.  Even more impressive than Fytch's amiability is the fact that this mashup comes only a week after the Forest EP was released.  That doesn't necessarily mean that this tune was completed in that same amount of time, but given the final result's complexity, this track is impressive regardless of the production time it required.
Nancy Sinatra's "Bang Bang" has certainly made the rounds in the EDM world in the form of both remix and mashup, but Fytch manages to keep it fresh.  My favorite element to this mashup is Fytch's use of "Doomsday" by Figure and Cas One which I have always deeply enjoyed as a perfect example of both the talent existing in little known artists and the power that bass driven music has to bring that talent to the main stage.  Before anyone starts to expect the intensity of a Figure tune, you are well advised to smoke one up and chill out to this spinetingler of a free tune.
A big thanks to the 16 year old, Fytch for continuing to kill it.