H3 & Nas-T – Heavy
Monday, January 30th, 2012 at 2:13 pm by DuaneBrett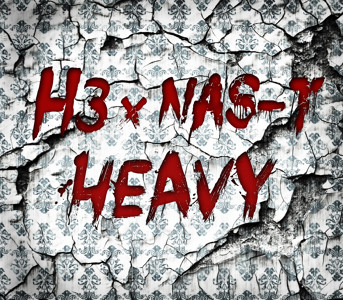 While aggressively snapping my head and neck back and forth to H3′s and Nas-T's collaborative effort on "Heavy," I was struck with something of a dismaying realization.  It seems that my taste in EDM/dubstep has shifted.  Maybe my ears have turned "connoisseur" as opposed to "gourmand," but I find that the majority of what holds my interest is now melody oriented instead of bass heavy.  As a long standing metal head, this is unacceptable.
This isn't to say that there isn't a quite addictive melody to be found in "Heavy;" there is, but this track  is most obviously concerned with being true to it's namesake by being a brutal, industrial, romp around.  Blending high, mid, and low end sounds and sampling, this track is a bit two-faced; "Heavy" seems to be the ideal ravestepper – that is until it escalates into a cybernetic death march at break neck pace towards the end.  "Heavy" is guaranteed to please anyone with a taste for bass!  Listen below and be sure to take a download with you!
Sure, this track is a bit of an enigma, but that fits perfectly to my listening experience with H3.  With musical tastes that are as various as his productions, one never knows what to expect from a new H3 tune (other than some sort of excellence).  However, H3 is not alone in his mutated style of sound design, or in uploading excellence to SoundCloud.  Along with VNRP, the duo of We Are Mutants reigns supreme over Kuala Lumpur and the greater Malaysian EDM scene.  The tunes of both the Mutants come to you as highly recommended – it's only a matter of time until they get shared on here again!
I haven't yet checked out Nas-T, but his page is my rotation of bookmarks
Check out H3 and VNRP (We Are Mutants) on the web