sAuce and Profresher, Glitching Up Your Future
Thursday, February 16th, 2012 at 3:38 pm by DuaneBrett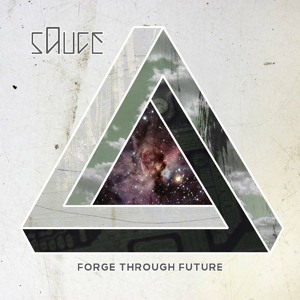 Anybody who is familiar with my obnoxious shenanigans on SoundCloud knows that I am pretty liberal with the favorite button.  Really, anything that I find is an enjoyable listen is fair game in my book.  Unfortunately this strategy has one major drawback; for anyone other than myself, it isn't really possible to differentiate between the merely enjoyable and the entirely outstanding.  Today, I take the opportunity to share with you two artists who unquestionably fall into the "outstanding" category.
Though I have been familiar with the glitch-hoppy, bassy, spacey steps of Minnesota's Billy Blacklight (Profresher) for much longer than I have the moist, future-driven, bass-blapping hops of Montana's Caleb Young (sAuce) I find that I attack new uploads from either of them with equitable voracity.  Independently, I have a great deal of respect for each of these guys' musical ability; I very much respect the complexity of their music and I find that many of their tunes are particularly adept at embedding themselves deep within my head.  So, when I saw that sAuce and Profresher had collaborated on a track called "New Energy," I expected to find a distinct brand of excellence served up with a side of staying power.  Take a listen to this perfect storm of wet glitching and bassy rhythms below and have your expectations exceeded.
"New Energy" is part of sAuce's 13 track album, Forge Through Future.  I highly recommend it, not just because it is musically mind blowing, but because all the sAucey one is asking for it is $1.  Of course, anyone feeling generous enough to throw a buck or two more in his direction would be greatly appreciated; the sales of this album will go directly towards getting sAuce to Costa Rica so that he join the rest of the incredible lineup at 2012′s Envision Festival.  To whet your appetite for more sAuce, and to help convince you that purchasing this album (for one single dollar) is the right thing to do, I'm going to drop my other two favorite tracks from Forge Through Future.
First up is the powerfully heavy, synth stabbing "Intentions."  Holy fucking jam, Batman.
"Ancient Anguish (feat. Burny Kutter)" has to be the biggest standout of this album for me.  Even for a sAuce tune, this one is exceptionally drippy with moisture, and I can't help but love this one.  A recent comment from the artist on "Anguish" reveals some interesting background info, sAuce tells us that, "Most of the percussion i made out of samples of the ocean that i snagged with my hydrophone."  Mind boggling stuff.
On the Profresher side of things, we expect nothing less than his biggest year yet.  The time should soon be coming when we see the individual, mastered tracks of his upcoming album Alien Orgasm start to drop.  The fact that we haven't already seen that begin to happen is extremely encouraging.  Already a bit of a perfectionist when it comes to his music, if we see any delay at all in this album's release it will only be because Billy is fine tuning his sounds so that they may most effectively melt your ear drums.  Having said that, I will admit to have been waiting on my next look at this release with extreme impatience.  I nearly salivate when listening to the mix he put up to give us all a taste and a tease of what is to come with Alien Orgasm.  Based solely on this mix (below) I anticipate a nice blend of the sounds that drew me to this artist, with the plethora of external influences he's comes across since that time.  Other than the rapture potentially hitting this year, Alien Orgasm is definitely the biggest thing to look forward to in 2012.  Always a big fan of a Profresher mix, they tend to come out really well; take a listen to what Billy has in store and feel free to take a free download.
Hopefully, we can also look forward to more from Profresher in the visual realm.  A few days ago he put up his first music video.  I had no idea such a project was in the works, so this came as quite the pleasant surprise, especially as I had never heard his remix of Interaction's "On The Beach."  This video is a fun little slice of life.  From what seems to be footage of a road trip to his new location in the bay area, we can learn a lot about Profresher: he has an affinity for dogs, but a backyard full of landmines; he has an affinity for smokables, high places, and sunsets; he has a hot tub and wishes harm upon carrots; and he is exceptionally well versed at driving too fast in the snow while smoking and filming himself.  A nice chill piece full of glitched out synths and heady brass hits, this one achieves the same beach-like ambiance of the original but adds some killer sunset-style vibes.  In a symbolic stroke that I hope was intentional, this "Hidden Beach Remix" ends up on the west coast, but doesn't quite make it to the beach. Appropriate to this remix's vibes and its title, the beach is truly hidden in you mind your whole time.
Pick up sAuce's Forge Through Future for the low price of $1
Pick up some of Profresher's tunes
Visit Profresher on SoundCloud